Meet Our Donors
We thank all our planned-gift donors for their generous support. Here are some of their stories.
Marion Morton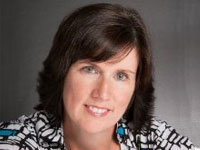 For Marion Morton, Pharmacy was one of two choices when she was thinking about College. "It was either becoming a pharmacist or a librarian, but being Marion the Librarian just didn't sound like a good idea!" Luckily for ACPHS, Marion chose pharmacy.
Since graduating in 1984, Marion has pursued various opportunities of increasing responsibility in the Pharmaceutical Industry. Currently, she is the Vice President of Cardiovascular Marketing for Boehringer Ingelheim.
Although she chose Pharmacy as her path, Marion was a leadership donor to the newly renovated library building. In honor of her $100,000 gift, students can now access an extensive array of library services in the "Marion Morton '84 Library Services Center".
"I've always believed in giving back to my alma mater. I wouldn't be where I am today if it wasn't for the education, experience and connections I have from ACPHS". Marion decided early on to support the College, having given every year since graduation. "Some years it was a bigger gift than others, but I think my first gift was $50 in 1985", shared Marion. "But as I looked forward and was planning for the future, I knew it was important to include the College in my estate plans".
"I firmly believe in the importance of giving today, but my estate plans were an opportunity for me to leave a legacy with the people and organizations I love - including the College was an easy decision".
Chester Koblantz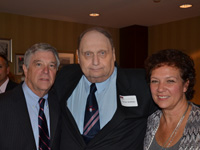 While Chester Koblantz did not attend Albany College of Pharmacy and Health Sciences, he has a deep appreciation for the school and a connection that began with his father, Nathan Koblantz '26. "I grew up with the College in my life," Chester explains. "My father and wife attended Albany College of Pharmacy and they often shared fond memories of their time at the school."
Chester remembers a childhood full of days spent in his father's drugstore, City Line Pharmacy in North Albany, which he owned for 35 years. "Pharmacy is very close to my heart; as far back as I can remember I was always in the drugstore helping my parents and the customers out. It was like a second home."
When Chester went to work at the New York State Department of Health, he made his own connection with the College upon meeting and marrying an ACPHS graduate. His late wife, Susan Greenspan Koblantz '65, was a senior chemist for the DOH for 32 years. Chester worked in a lab there where he would often see Susan. "We hit it off right away," he recalls.
Chester started and finished his career in research with the DOH. In between he had opportunities with Agway Inc. analyzing nitrogen, phosphorous and potassium and performing quality control testing for fertilizers. "It was an interesting job, I learned a lot in the seven years I worked there," he says, until that plant closed and he moved on to Sterling-Winthrop, Inc.
There he worked in a drug metabolism lab conducting clinical trials for stage two and three arrhythmia drugs. In 1988, Sterling-Winthrop was acquired by Eastman Kodak for $5.1 billion, at which point Chester returned to the DOH, this time performing genetic testing and newborn screenings in a specialty lab. While there, Susan encouraged Chester to take a state test that would elevate him to a senior laboratory technician.
"Susan had more confidence in me than I had in myself, she was always pushing me and encouraging me to take on or try new opportunities," he said. "She was my angel."
He took the test. "I was almost certain I had flunked it, I was practically in tears over it," he remembers. "When the results arrived in the mail, I opened the envelope with trepidation and with Susan looking over my shoulder." Well, not only did Chester score very well, he was the only one in his entire department who passed.
After a wonderful and rewarding career in laboratory research, Chester and Susan both retired from the DOH on April 2, 1998.
Retirement was good to them. Chester started a model train hobby. Together they pursued musical interests like organ playing and expanded their world travel repertoire. Some of the couple's destinations included: Ireland, The Netherlands, Egypt, Israel, Germany, China, Japan, Hong Kong, Spain, Great Britain, Soviet Union, Norway, Sweden, Australia, Fiji, Bora Bora, and Tahiti.
While the South Pacific Islands were a clear standout in Chester's mind for the natural and breathtaking beauty, one of his most memorable trips was to New Zealand where he bonded with a Koala bear. "The animal came right to me and wrapped its arms around me," Chester explains. "The ranger said he had never seen anything like it. The bear was so attached that we had to actually pry its paws off me. It was an amazing experience, I'll never forget it."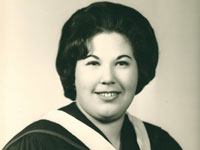 Chester and Susan shared a long and happy marriage of 43 years. "What a wonderful lady," he reminisces. "We would lie in bed at night and tell jokes, oh we would laugh."
Before Susan passed away in 2006, Chester spoke to her about establishing a scholarship in her and his parents honor. "It was something that made us feel good," Chester recalls. "The students are the heart of the College. I know that this scholarship will help train these wonderful young people to be pharmacists, they are doing a great service to the community."
Chester has named ACPHS as the beneficiary of his estate through a will bequest.
Through his estate plan, Chester will endow the Chester I. Koblantz Scholarship in honor of Susan Marilyn Greenspan Koblantz and Nathan and Betty Koblantz. This will be the largest gift the College has ever seen in its 132-year history.
"I've been working all my life and it makes me feel so good to know that the fruits of my labor will be here long after me," Chester says. "And I know my mom and dad would love it too."
Gino Turchi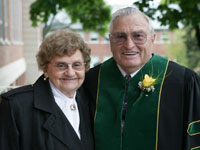 Gino Turchi never attended Albany College of Pharmacy and Health Sciences (ACPHS) but he considered it one of his top "causes." For Gino and his wife Willie, giving back to the community was what it was all about.
An avid golfer, Gino's love of the sport ignited when he was a caddy at just eight-years-old. His passion drove him to build and own the Northway Heights Golf Club in Clifton Park, which he operated with Willie and their late son, Gene. After a successful career at Northway Heights, Gino also went on to help design and construct the Ballston Spa Country Club and the Cobleskill Golf and Country Club.
Golf was not Gino's only passion. He loved people and giving back. Siena College, Albany College of Pharmacy and Health Sciences, and the YMCA in Schenectady were three institutions near and dear to his heart. He supported ACPHS's annual President's Cup Golf Tournament and related scholarships, the creation of the golf program and scholarships at Siena College, and the building of the Turchi YMCA Family Center in Schenectady.
When he celebrated his 90th birthday, Gino included Albany College of Pharmacy and Health Sciences in his estate plans.
Sadly, Gino passed away in December of 2012, but his legacy lives on in a unique way. In addition to including the College in his estate plans though a will bequest, Gino also established a Charitable Gift Annuity to benefit both the College and his wife Willie. This was a great way for Gino to support an institution he loved.